Summit Nutritionals ® – Proud sponsor of "Taste of B'Ville"
BERNARDSVILLE – Residents will have
an opportunity to sample cuisine from more than a dozen local restaurants, enjoy music and browse exhibits from various local vendors during the first "Taste of Bernardsville and Beyond'' benefit event Thursday evening Oct. 17, at the Olde Mill Inn in Basking Ridge.
A fund-raiser for the Bernardsville Fire Company and First Aid Squad and Bernardsville Senior Citizens, the event will be held from 6 to 10 p.m. It is being presented by the Bernardsville Chamber of Commerce.
"We're very excited,'' said Caesar Mistretta Sr., executive director of the chamber. "We're pleased that we are totally booked as far as restaurants and vendors.
"It's a taste, not a sit-down dinner,'' he explained. "We're happy that it's a nice variety of food in addition to a great deal of desserts. And of the net proceeds will go the Bernardsville Fire Company and senior citizens.''
"We have about 20 restaurants participating and about 15 vendors,'' added Joseph Rossi, the chamber's senior vice president. "We think it's going to be a great start for a new event, a change of pace.''
Participating restaurants provide the food free of charge as a way of showcasing their menus. The cost is $50 per person.
"One price covers all,'' Rossi said. "Whatever the restaurants feel is their top of the line items.''
Adult beverages will also be available for sale by the restaurant.
"The Olde Mill Inn is giving us their facility at a fraction of what it normally costs so they really are our lead benefactor,'' Mistretta noted. "They are giving us not only the banquet hall but also the various other public places and exteriors of the hotel.''
"The ambiance of the place is really gong to create the mood,'' added Rossi. "It's a beautiful complex.
"We're happy for the support and the generosity of the restaurants, the sponsors and the vendors that have come forward to help raise money for these organizations,'' he added.
Music will be provided by D-J Michael Spinnato from Eclipse Entertainment in Bernardsville.
For this year at least, the new event will replace the chamber's annual Unity Day celebration, an outdoor benefit that has been held on the grounds surrounding the municipal pond. While Unity Day was always contingent on weather, the taste won't have that problem, Mistretta noted.
The chamber has secured a number of sponsors for the event, including Summit Nutritionals International ®, the platinum sponsor, and Audi of Bernardsville, its gold sponsor. Mistretta said he expects the sponsorships will cover basic operating costs, with the focus now on ticket sales.
Click hear to read more about the "Taste of B'Ville"
.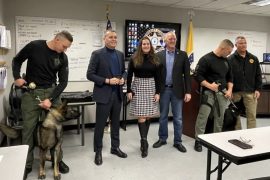 This donation will allow the K-9 Unit to expand by adding 2 more narcotic detection dogs, along with
Read more
Archives