Summit Nutritionals International & Vohne Liche Kennels
 Summit Nutritionals International ® is proud to choose the Vohne Liche Kennel of Denver, Indiana to supply Police Departments all over the United States with the finest in Explosive & Narcotic Detection Canines.
.
The Vohne Liche Mission
To produce the most effective and versatile Police / Military Service Dog Teams. We vow to work as hard as necessary to afford our handlers the opportunity to leave here confident and prepared to meet the myriad of situations, ready to challenge them!
.
From the Vohne Liche Website – Vohne Liche Kennels (pronounced Von Lick) is a full service K-9 training facility where the best of the best go for highly trained Police Service Dogs. VLK has trained Police and Military Service Dogs for over 5000 law enforcement and government agencies to include the;
National Security Agency (NSA)
Pentagon Police
U.S. State Department
U.S. Army
500 Plus Civilian & Police Agencies
Vohne Liche Kennels was founded in 1993 by United States Air Force Senior Master Sergeant Kenneth Licklider. The training staff at VLK consists of eighteen (18) on site trainers and six (6) off site trainers. All of the training staff is either former military, law enforcement or both. VLK also has the advantage of utilizing several trainers who are considered subject matter experts in their career fields. These experts take time from their busy careers to contribute their expertise to our classes throughout the year.
Vohne Liche Kennel's buildings and properties offer an unprecedented learning
environment and are the result of the demands of the Government and Law Enforcement Industries needs for a reality based training facility.
From the VLK equipment store, to the student dorm facilities, K-9 "Hogan's Alley", multiple full scale complex buildings, schools, and warehouses, and over six hundred (600) + acres of property, no operation or training objective is too large or too small for VLK.
Our training methods are world renowned. VLK canines are pre-trained and reliability tested, easily adapting to a new handler. As handlers and trainers with real world experience, we know the tremendous pressure of having to make the call. Our methods take the guess work out of the equation.
Vohne Liche Kennels is certified through several states to include the Indiana Law Enforcement Training Academy, Ohio Peace Officer Training Commission, and Kentucky Law Enforcement Council as a Law Enforcement Training Provider. Most of our training courses are also VA approved. We hold licensing with the ATF to possess live explosive aids, and the DEA for live narcotic aids.
To meet the needs of the canine industry, Mr. Licklider established American Working Dogs, Inc. (AWD) in 2001 and Vohne Liche Kennels Canine Security, LLC (VLKCS) in 2004. AWD offers membership and certification to canine teams across the globe. Since the first publication of the AWD magazine, AWD has steadily grown into a five hundred plus (500+) member organization. AWD publishes four (4) magazines a year and host the annual AWD Seminar and Certification Trials at the VLK training facilities in Indiana.
Vohne Liche Kennels also provides Explosive Detection Dog (EDD) services to various federal agencies, professional sporting venues and corporate America. These services are provided for the purpose of safeguarding personnel and critical facilities by conducting intensive K-9 searches and deterrence patrols.
Visit The Vohne Liche Kennel Website
.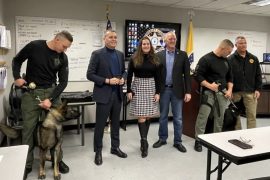 This donation will allow the K-9 Unit to expand by adding 2 more narcotic detection dogs, along with
Read more
Archives