St. Baldrick's Foundation Thanks Summit Nutritionals International ®
Hi Caesar,
I just wanted to thank you personally for what you've done for kids with cancer.
Your support this year meant more than you know. For our researchers, it meant they could keep working on their research projects. For many families affected by childhood cancers, it meant getting the best cancer treatments available for their child while staying closer to home. And for kids with cancer everywhere, it meant that they had a friend who cared enough to give.
That friend is you.
So on behalf of the St. Baldrick's community — our researchers, families, kids, and staff — thank you. You gave more than money. You gave hope.
For all you do for kids with cancer, thank you.
Rebecca C. Weaver
Becky Chapman Weaver | Chief Philanthropy Officer
St. Baldrick's Foundation | Conquer Childhood Cancers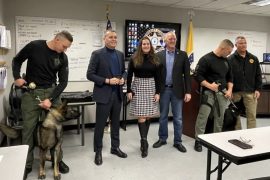 This donation will allow the K-9 Unit to expand by adding 2 more narcotic detection dogs, along with
Read more
Archives