Riverdale Police Get a Gift of a New Police Dog
Sgt. Patrick Harden is in training with the newest member of the Police Department.
The fifth police dog to serve Riverdale over the years, Elza is a 2-and-half-year-old Belgian Malinois that was born in the Republic of Slovakia, said Lt. James MacIntosh, Patrol Supervisor.
Riverdale was without a police dog of its own until this recent donation by Dr. Caesar DePaço and his wife, Deanna Paovani-DePaço, of Summit Nutritionals International Inc. ® in Branchburg, New Jersey.
After contacting the couple through Chris Engelhardt, who is a Hillsborough police K-9 Handler, Sgt. Harden drove to Indiana and picked out Elza from a trainer, said MacIntosh.
Harden and Elza are training with the Morris County Sheriff's Department with the goal of using the K-9 for the narcotics detection and also for demonstrations to help educate children about the dangers of drug use.
They are expected to graduate in December.
"K-9 Elza will then be used to combat the growing drug problem by assisting officers with drug interdiction on the highways," said MacIntosh in a press release.
-Donna Rolando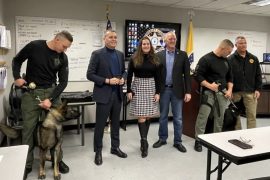 This donation will allow the K-9 Unit to expand by adding 2 more narcotic detection dogs, along with
Read more
Archives