Reflections From A Man Involved In An Incredible Journey
Reflections from a man involved in an incredible journey. I want to take this opportunity to share my story and involvement in an amazing journey to be a part of a project that has changed my life. When I met Dr. DePaço it was obvious he had a love for dogs and an appreciation for law enforcement and their contribution to the community. I could never have fathomed how dedicated they were to giving back to the men and women that served beside me.
To understand my appreciation I should first tell you about my lifelong goal of being a K9 Officer. Growing up I always knew I wanted to be a Police Officer, but it wasn't until my cousin introduced me to his K9 Partner that I instantly knew that this was going to be my dream. In 2008, I was granted that dream by being named the first K9 Officer in Hillsborough, New Jersey. My first dog, Raider, was an amazing partner and he exceeded all the expectations that any K9 Officer could ask for and then some.
Unfortunately, after five years Raider had to retire due to a genetic spinal condition. I had lived my dream for five years, but knew I had so much more to give. This is when Dr. DePaço changed my life.
Dr DePaço committed to purchasing a K9 for Hillsborough as well as a vehicle that was much needed. Again, I was chosen as the K9 Officer. Imagine being able to live your dream twice!
This is where my life changed. Dr DePaço decided to make it his mission to facilitate K9s to police departments that were in need. I remember sitting at home and reading about the Oklahoma City dog that was stabbed by a criminal he was chasing. I think any dog owner can sympathize about how devastating the loss of your partner can be. Then I received a call from Dr. DePaço about how he wanted to help. He expressed to me about how he was not only concerned about the loss of the dog, but he was also concerned about how the handler and the family were coping with the situation. This is where the journey starts.
With Dr. DePaço's permission I facilitated the purchase of Oklahoma City's next K9 from Vohne Liche kennels. Since then I have been the middle man of a total of 15 dogs that Dr. DePaço has purchased for departments in need. It is one thing to receive a dog, but to be witness to another officer receiving such a generous gift is unforgettable.
I owe a lot to Dr. DePaço. My first dog, Raider, is living a better life thanks to Droi-Kon ®, I have a second dog that is working daily to go catch the "bad guys" and I have been a part of his amazing project to provide K9 dogs to departments that needed help.
Thank You Caesar DePaço for your contribution to law enforcement around the country!
Chris Engelhardt, K9 Handler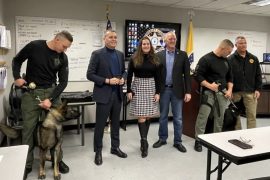 This donation will allow the K-9 Unit to expand by adding 2 more narcotic detection dogs, along with
Read more
Archives