Philanthropist Donates $10,000 to Franklin Township Police
Dr. Caesar DePaço and his wife, Mrs. Deanna Padovani-DePaço of Summit Nutritionals International, Incorporated, made a $10,000 donation to the Franklin Township Police Department's Community Relations Bureau.
Officials said the generous donation was pledged during the couple's July 2021 visit to the department.
They donated four police bicycles to augment the bicycle patrols of the Community Relations Bureau.
It was during that visit that the businessman/philanthropist toured the facility at 935 Hamilton Street, learned about our efforts in the community and made this additional pledge to assist.
Assisting police departments has been their philanthropic mainstay since 2012.
They have invested generously in assisting law enforcement agencies in acquiring valuable equipment throughout the country and even overseas.
Throughout the history of policing, one of the basic guiding principles is to protect and serve the community and its people.
Officials said it is evident through their actions that they have chosen a life of service as well.
"Dr. DePaço's donation will be used to enhance our technology and training within our Citizen Academy and CADET Program.
We are honored and thankful to Dr. DePaço for his continued support of the Franklin Township Police Department officials said.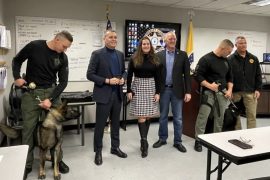 This donation will allow the K-9 Unit to expand by adding 2 more narcotic detection dogs, along with
Read more
Archives