Ormond Beach Police Department Thanks Caesar DePaço
Thanks to a donation by Caesar DePaço, a private citizen, OBPD was able to acquire a new K-9 for about $12,000. DePaço, a Portuguese businessman and philanthropist based in the U.S., has routinely made donations to help fund various police departments along the east coast of the U.S. OBPD presented DePaço's representative, Scott Vedder, with a certificate and a framed photo of Klaus in appreciation for his donation on Sunday, Aug.  28.
"It really moves me as a police chief because it's not like this all over the United States," Ormond Beach Police Chief Jesse Godfrey said. "But I can tell you in this area, in this part of Florida, the support we get from the community is just overwhelming at times."
And this wasn't the first time DePaço made a donation to OBPD. It's the second. Godfrey said a few years ago, DePaço offered to donate the funds for the department to acquire a new K-9, but that at the time, OBPD didn't have a need for one. So DePaço purchased weapons for OBPD's special response team.
K-9 Klaus, who will work alongside Officer Justin Hyatt, is trained in narcotics detection. His addition to the department means OBPD is back to having two K-9s.
"It's helping to get illicit drugs off the street," Godfrey said. "That's really what their job is … detect the drugs and bring those violators into the justice system."
Godfrey thanks DePaço for his "unwavering support" of local law enforcement communities.
"The citizens appreciate it," Godfrey said. "The officers appreciate it.  … It's just another tool we use to keep our citizens safe."
2022 Droi-Kon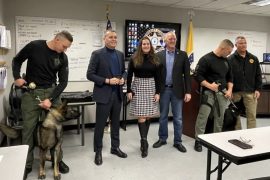 This donation will allow the K-9 Unit to expand by adding 2 more narcotic detection dogs, along with
Read more
Archives