Master Deputy Shannon "Shane" Chase Thanks The DePaço's
Dear Dr. Caesar & Deanna DePaço,
I am writing this letter to thank you for our two new canines. I have the pleasure of handling Marko (formerly known as Django). Our other canine, Bono, is handled by Kyle Speichinger.
These canines are top notch and I can't express the gratitude I have for your donation. While at Vohne Liche Kennels, we had the ability to train with Daron Rhoads and his canine, Kaiser (also donated by you). Not to brag but your 3 donated canines were the top 3 in the class, hands down! Each canine was number 1, depending on which aspect of work we focused. In addition, each canine has already had street finds, though mostly user amounts. We are building our highway interdiction team and larger finds shouldn't be far away.
I never had a chance to thank you personally, but I wanted to let you know how much I appreciate what you do and have done for canine handlers across the nation. I lost my previous canine, Ace, to kidney failure. We had an incredible bond. K9 Marko is simply amazing and has a lot of the same personality traits as Ace. Marko is a very intimidating dog and LOVES to work!
Since we have been back from Indiana, we have been training with the KCMO PD K9 Unit and Jason Brungardt/Rico (another of your donated canines). Right now, they are helping us train for our local certification and have an incredible amount of instructors/trainers with canine knowledge. Their dogs come from Vohne Liche Kennels, as well.
I wanted to send you a couple photos of our canines and let you know they are PERFECT!! I was not sure if anyone had contacted you since our return from Vohne Liche Kennels, but I wanted to reach out to you personally to say thanks!! I wanted to let you know we are constantly asked about our dogs and everyone's eyes light up when we tell people they were donated by you.
Marko, Bono, Kyle and I look forward to meeting you in the future.
Feel free to contact me anytime about anything. You both will always have a place in my heart and I will forever be indebted to you!
Sincerely,
Shannon "Shane" Chase
Master Deputy / K9 Unit
Johnson County Sheriff's Office
27747 W 159th Street
New Century, Kansas, 66031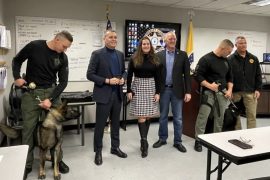 This donation will allow the K-9 Unit to expand by adding 2 more narcotic detection dogs, along with
Read more
Archives