Indiana Police K9 Selected for French Officer After Paris attacks
PERU, Ind. (WTHI) – An Indiana Police K9 handler, who's originally from Terre Haute, is helping match up and train a police K9 for a French SWAT team overseas.
The dog will be a replacement for the Police K9 killed in the ISIS attacks in Paris, France.
News 10 was there Wednesday afternoon as the new team was introduced to the media.
.
.
Vohne Liche Kennels in Peru, Indiana is where they were testing out multiple dogs to become the new Police K9. By the end of the day Wednesday, the French officer chose "Dog Number 1" as his new partner. That K9 will be replacing 7-year-old Diesel. Diesel was killed in the line of duty in Paris during the ISIS attacks, about a month ago.
Police K9's are trained to work in the line of duty, and that's exactly what Diesel did the day of the Paris attacks.
"He sent the dog in, and then he heard some shots, so he knew he would never get his dog back," said the French officer who's visiting Indiana to select a K9. Helping him translate into English was Interpreter Regine Brindle.
Tragedy struck Paris, and Diesel's story made headlines around the world. Now Diesel's officer, is in Indiana, to move forward and find a new K9. Dr. Caesar DePaço of Summit Nutritionals International ® is among millions that were effected by the news, and decided he could help by donating the new K9 partner.
Chris Engelhardt, a Police K9 handler and a spokesperson for Summit Nutritionals International ® said, "On Wednesday, November 19th, I had made contact with the commander with the unit and by 12:15 p.m. they had already accepted the donation to replace Diesel."
Vohne Liche Kennels imported and trained the selected K9. The French officer chose a Belgian Malinoi. Owner Ken Licklider says, helping out this officer is like helping family.
"We're all prior military or police dog handlers, we've all been in similar situations. To be able to help him, it's an honor," said Licklider.
An officer and K9 bond is special. A bond, that's hard to replace.
"5 years to be with a dog, you have links and ties, very emotional ties," said the French officer.
However, the new K9 will be trained with the skills it needs to help defend France. The officer will work, on building a relationship that will be unbreakable in the line of duty.
"He didn't expect so much love pouring out for Diesel dying."
.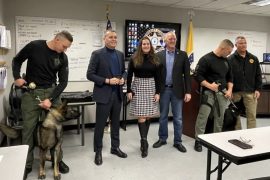 This donation will allow the K-9 Unit to expand by adding 2 more narcotic detection dogs, along with
Read more
Archives