Home
In honor of slain K9, Brigham City gets donation to fund new police dog
In honor of slain K9, Brigham City gets donation to fund new police dog
BRIGHAM CITY — Brigham City is getting a new police dog, a development with profound meaning for Police Chief Chad Reyes, whose own K9 was killed in the line of duty five years ago.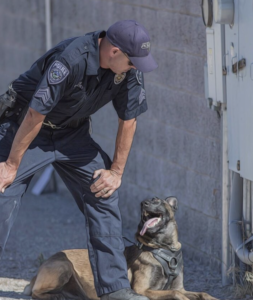 Reyes and his K9 partner, Dingo, were with the Unified Police Department in Salt Lake County when they were part of a team deputized by U.S. marshals to apprehend a violent fugitive on July 6, 2017.
Police tried to arrest the fugitive in a traffic stop, but he sped away. Officers threw down road spikes, disabling the car. The man got out and ran.
Reyes released Dingo to perform a "capture engagement," one of the various tasks the canine was highly trained to perform. "As Dingo engaged the suspect, he drew a firearm and shot Dingo three times and they tumbled down an embankment," Reyes told the Standard-Examiner in an interview Thursday. "Dingo was able to engage him enough that he was distracted and we were able to take him into custody." Reyes said he has no doubt that Dingo saved his life and the lives of other officers that night.
K9 handlers are hit hard when they lose such a loyal partner. "In canine work you spend more time with your partner than with your own spouse or children. You spend every day with them at work and then you're with them at home," he said. "It's an indescribable bond."
Since being hired as Brigham City's police chief in January, Reyes has been working to add a second K9 team to the force. The department announced this week that a $12,000 donation has been received from Caesar DePaço, CEO of New Jersey-based Summit Nutritionals International.
Reyes said he became aware of DePaço's philanthropy toward police departments in the aftermath of Dingo's death. The chief contacted DePaço this year to ask if he would support the initiative to add another K9 to Brigham City's force in honor of Dingo. Reyes said DePaço and his wife, DeAnna Padovani-DePaco, have donated more than $2 million to K9 programs around the country.
The new dog and its handler, Master Officer Kyle Whitaker, will attend Utah Peace Officer Standards and Training instruction beginning in January 2023 and are expected to be on patrol four months later.
As with Dingo and other so-called dual-purpose canines, Brigham City's new dog will be trained to lead arrests when a criminal is running. The dog also will detect narcotics, find evidence, locate lost children or vulnerable adults and, Reyes said, "They're a good PR piece for the department. Everybody loves the dog."
2022 Droi-Kon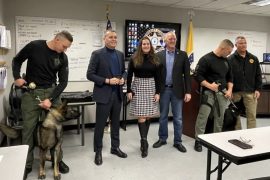 This donation will allow the K-9 Unit to expand by adding 2 more narcotic detection dogs, along with
Read more
Archives