Honorary Consulate of Portugal Opens Palm Coast Office
The Consulate of Portugal has been open in Palm Coast for a little more than a month and the news is being greeted warmly.
Mario Carmo, president of the Portuguese Cultural Center, said the reaction of members of the area's Portuguese community, estimated to be about 1,000, is one of excitement and pride.
"Most people I know are dealing with estate issues in Portugal as elderly parents pass away," Carmo said. "This process often requires obtaining and certifying documents, which only the Consulate can provide.
"We see the Consulate as a potential source of growth for the Portuguese community of Palm Coast."
Gretchen Smith of the Flagler County Chamber of Commerce said the opening also may bring new business opportunities for the county.
"The Portuguese Consulate's coming to Palm Coast was great news," Smith said. "We welcome the consulate, especially because one of its missions is attracting new businesses to Flagler County, which will fit nicely with, and augment, the Chamber's focus on working with small businesses and startups, while at the same time supporting economic growth and investment in both countries."
Honorary Consul Caesar DePaço recently took time to offer his perspective on the consulate's mission, its services, how it came to relocate to Palm Coast and its plan for business development.
What are the consulate's general mission and services?
The mission of the Consulate is to assure the defense of the rights and legitimate Interests of the State and the citizens in this jurisdiction along with coordination with Portugal's Embassy in Washington, DC.
This consulate extends its jurisdiction efficiently providing services such as Civil registration; Notary services; identification and travel enrollment; voter registration; certificates of residency and citizenship enrollment. We need to give the necessary support for our 100,000 Portuguese residents throughout Florida.
What attracted the Consulate's relocation to Palm Coast?
Opening a Consulate in Palm Coast was a decision of the Portuguese Government, referred by the Secretary State for the Portuguese Communities. This decision was based on the fact that Orlando had a limited response to the needs of such an extensive Portuguese Community in the state of Florida. On the other hand, Palm Coast is showing significant demographic growth. There are more than 5,000 Portuguese citizens in Palm Coast.
In the meantime, we are working on offering Consulate services to other areas of Florida in hopes of creating more convenient locations for Portuguese citizens to obtain such services.
Will the Honorary Consul be responsible for attracting new business to Flagler County and Florida in general?
In addition to all the responsibilities inherent to the Consulate, the Consul is the institutional representative of the Country in his territory. Obviously, this representation promotes Portugal in the United States while supporting business and investments in both countries.
It is necessary to remember that Portugal recently went through a difficult recession from which it is beginning to recover its independency, sovereignty and confidence of the investing community.
Currently, several sectors of Portugal are becoming more attractive to external investors.
As Portugal successfully recovers, American investors are taking notice, for example: recently an American company, Lone Star, acquired a substantial tourism development in Vilamoura.
Recent results from prestigious institutions, for example the Worldwide Global Economic Forum, shows the Portuguese economy has become more competitive and is capable of attracting foreign investors. Out of 144 economies, Portugal now ranks 36th. This is a 15-point improvement. Portugal has surpassed Italy, the Czech Republic, Poland, Malta and Turkey.
Portugal has also achieved 4th place in school management, 5th place in news business-startups, 8th place in quality science and engineering and 12th place in infrastructure. Portugal has been recognized for the fifth year, by Gartner Corporation, the world's foremost information technology research and advisory firm, as a leader in developing technological services.
As a result, many international companies look to Portugal for outsourcing, independent contracting or starting their own businesses. This has impacted and motivated investors.
In conclusion, our mission is to support international expansion for Portuguese companies and to particularly encourage Portuguese businesses to come to Florida. Naturally, my intentions are to support investment for the benefit of both countries and to pursue whatever is necessary to see our mutual ventures become successful.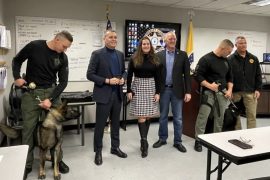 This donation will allow the K-9 Unit to expand by adding 2 more narcotic detection dogs, along with
Read more
Archives