Hillsborough Department of Police Welcome New K-9 – Goodbye Raider; Hello Kondro
After five years of service helping Hillsborough police, Police K-9 Raider is calling it quits.
The German shepherd has been busy, assisting in multiple arrests for drugs over the years—in 2012 alone, Raider was involve in 16 drug investigations, four suspect searches and one incident protecting an officer.
Raider will spend his retirement with Hillsborough Police Ofc. Christopher Engelhardt.
Replacing him on the force will be a Belgian Malinois named Kondro, who began serving the department earlier this month. Kondro was acquired with funds donated by Dr. Caesar DePaco, of Summit Nutritionals International ® of Branchburg.
Related News: Summit Nutritionals ® Donates K-9 to Hillsborough Township Dept. of Police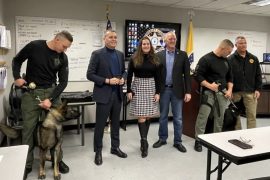 This donation will allow the K-9 Unit to expand by adding 2 more narcotic detection dogs, along with
Read more
Archives