First Explosive Detection K9 Team Graduates From NJSP Scent Detection School
HUNTERDON COUNTY PROSECUTOR'S OFFICE FIRST EXPLOSIVE DETECTION K9 TEAM GRADUATES FROM NJSP SCENT DETECTION SCHOOL
Shown above Chief of Detectives Frank R. Crisologo, Detective Ed Pawlick and K9 Mac.
Hunterdon County Prosecutor Anthony P. Kearns, III, announced that Detective Edward Pawlick and K-9 Officer McGinley (Mac) have graduated from the New Jersey State Police K-9 Scent Detection School. The new K-9 team is trained in detecting explosives.
N.J.S.P. Scent Class #33 began March 12, 2018 and concluded on June 15, 2018. The class graduated 26 K-9 teams, consisting of 19 explosive detection teams and 7 narcotic detection teams. The explosive detection teams are trained to indicate on twenty types of explosive materials. Mac is a two year old German Shepard from Czechoslovakia that was generously donated by Dr. Ceasar DePaço and his wife, Deanna Padovani-DePaço, of Summit Nutritionals International Inc.
In September, Detective Pawlick and Mac will attend the New Jersey State Police K-9 Patrol Class, an extensive training program that prepares handlers and their K-9's for criminal apprehension, tracking, building searches for suspect and article searches. Detective Pawlick also handles K9 Officer Finn, a narcotic detection canine.
According to Prosecutor Kearns, "Explosive Detection Canine Teams include a highly trained detection dog and a law enforcement handler. These teams conduct searches for a variety of explosive materials of buildings, schools, parking lots, office areas, vehicles and packages. They also provide a strong visible and psychological deterrent against criminal and terrorist threats. The teams are available to assist federal, state, and local law enforcement partners. They will be a resource that is extremely useful to law enforcement agencies throughout the county."
Prosecutor Kearns added, "I would like to thank Dr. DePaço and Deanna Padovani-DePaço for their generosity and continued support of law enforcement. I would also like to thank DVM, Karan Oberhansley, of the Whitehouse Veterinary Hospital for her outstanding care of both canines, Finn and Mac. She has generously donated her time to provide routine veterinarian exams and care to insure their health and welfare to perform their duties.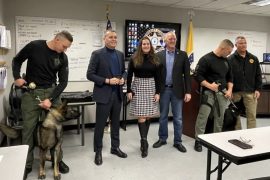 This donation will allow the K-9 Unit to expand by adding 2 more narcotic detection dogs, along with
Read more
Archives